Mouthguards (Night)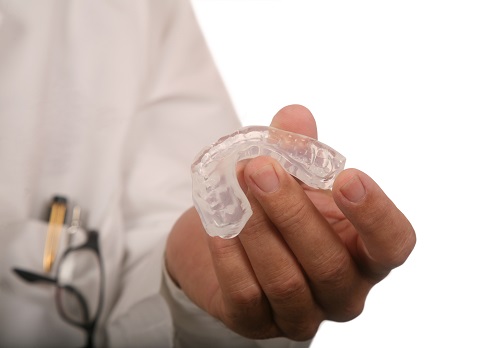 Most of the time, mouthguards are associated with playing sports where they are used as protection to the teeth, jaw, and soft tissues of the mouth. While it is true that is one use of mouthguards, they are also utilized while sleeping to avoid damage from patients who clench their jaws or grind their teeth. Mouthguards are used to keep the lower and upper jaws apart, maintaining a space between the teeth to alleviate pressure in the jaw area which creates pain in the jaw, toothaches, and can wear gums and tooth enamel much quicker than normal. If patients are suffering from some of these indicators and want to stop grinding their teeth as they sleep, a mouthguard is the way to go. Give us a call now to schedule an appointment to come see us at Coulter Family Dentistry. We are also available, by phone, for a consultation by calling our number.


What is Bruxism?
The technical term for grinding teeth and clenching of the jaw is known as bruxism. There are a number of causes for bruxism, but the only effective treatment is by wearing a mouthguard. To be effective, the mouthguard needs to be comfortable or patients will be reluctant to wear them. The symptoms can be as simple as jaw soreness or temporomandibular joint (TMJ) pain or as complex as migraines, difficulty sleeping, pain in the ears, the back, and even the neck.


Mouthguards - Why Wear Them?
The slow wearing motion of the upper and lower jaws grinding back and forth against each other can wear down and potentially cause irreversible damage. Once the enamel is worn and the inner layers of the tooth are exposed, they can develop hypersensitivity to temperature changes in food and drinks which can be quite painful. When patients grind their teeth, it can put an incredible amount of stress on the jaw and teeth which can lead to cracks or fractures in the tooth. It can also result in receding gums and potential tooth loss leading to involved restorative dental surgeries.

When the erosion gets too severe, crowns can be used to strengthen the teeth and to stop the grinding motion. Root canals may be needed as well to correct the problems created by bruxism.


Mouthguard Types
While there are several different kinds of mouthguards, they all serve one purpose: to protect the teeth and soft tissues of the mouth from bruxism. There are lower priced options which include the one-size-fits-all type. There is also a boil and bite kind of mouthguard which is slightly more expensive. The most expensive and the best option for protection is known as a custom-made mouthguard.

If a patient has a mouthguard and it causes their jaw or teeth to ache, it means the mouthguard is not correctly sized for their mouth. When it is ill-fitting, then it cannot properly protect the teeth and mouth either.

If your jaw aches and you have tooth pain or pain at the TMJ site, why not come in to talk to us about the available options. We are located at Coulter Family Dentistry. We can also be reached by phone at 509-924-1314. Call us today.