Implant Placement Spokane Valley WA

We can accommodate you here in our office throughout the entire process, from implant placement to your final restoration. The implant procedure is simple and requires only local anesthetic, although varying levels of sedation are available if you need.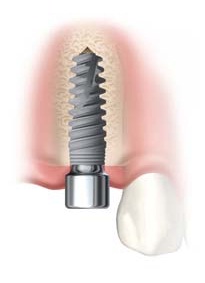 The implant itself is made of titanium, a biocompatible material. It is surgically placed in your bone and allowed to heal for a period of 3-4 months, termed the 'healing phase.' Often additional bone augmentation procedures will be needed at the placement appointment time to allow proper support of the implant. A healing abutment is connected to the implant at the time of placement and remains during the healing phase. This is the little metal cap you see protruding from the gum tissue (Figure 1).

In some situations a temporary crown can be immediately placed on the implant but often a temporary removable partial (commonly called a flipper) is used to provide the appearance of a "fake" tooth. This provides a reasonable esthetic appearance during the healing phase. Figures 2-4 below outline the steps of implant restoration that occur after the healing phase is completed.


---
Steps of Implant Restoration
Click on the images below to open a slideshow
Learn More:
Am I a Candidate for Dental Implants?
Benefits of Dental Implants
Dental Implant FAQ