Kid's Dental

Spokane Valley, WA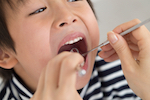 At Coulter Family Dentistry, your child's oral health is our number one priority. From infancy to their teenage years, we want your child's primary and permanent teeth to be free of decay and other dental diseases. When it comes to the health of your child's teeth, there is no better time than now to start practicing excellent oral hygiene. If you have not done so already, make sure your child has a dental visit by their first birthday!


Preparing Your Child for a Visit

If your child is not old enough to comprehend their first visit to our office, the preparation will be fairly easy. If they are a little older and have worries or fears, it may be helpful to reduce their anxieties. You should talk to your child about the visit. Explaining what will happen simply can make a huge difference. If you experience fears or anxieties associated with the dentist, do not communicate them with your child. Avoid words like "shots," "drills," and "needles."

You can also talk to us about any fears your child may have. We can work together to limit them. A children's book that explains what it's like to go to the dentist may also be a useful tool. One final tip: never bribe your child to go to the dentist or threaten a visit as a punishment.


Your Child's First Visit

Your child's first dental visit is usually short and involves very little treatment. We take the opportunity to introduce Dr. Travis Coulter in a friendly and non-threatening way. If your child is an infant, you will have to hold them in the examination room. During the exam, we will check your child's gums and existing teeth for decay and gum disease. We will also look for potential problems with their bite, jaw, and other oral tissues. If they are old enough, we may recommend a professional cleaning and fluoride treatment. Fluoride treatment is an extremely effective way of preventing cavities and strengthening the enamel. Before you leave the office, we will also review proper at-home oral hygiene practices. Be sure to ask any questions you may have or voice any concerns.


Good Oral Hygiene for Kids

Good oral hygiene starts as early as infancy, meaning you should incorporate some oral hygiene regimen as soon as possible. Before any primary teeth erupt, you can keep their gums clean by rubbing them down with a soft, wet washcloth or a piece of gauze.

Once the teeth begin to erupt, it is important to keep them clean. Purchase an appropriately-sized soft-bristled toothbrush and make it a part of their daily ritual. A good brush will clean their teeth more thoroughly, by removing the plaque and biofilm buildup that causes cavities. Never put your infant to bed with a bottle that contains anything other than water. This can lead to a serious condition known as "baby bottle tooth decay."

Remember, your child's primary teeth are just as important as their permanent ones. The development stages of your child's oral health can dictate the future of their smile. We want to establish positive habits that provide a strong foundation that will follow them into adulthood.


Schedule Your Child's Appointment

Call 509-924-1314 to schedule your child's appointment now!