Dental Filling SPOKANE VALLEY, WA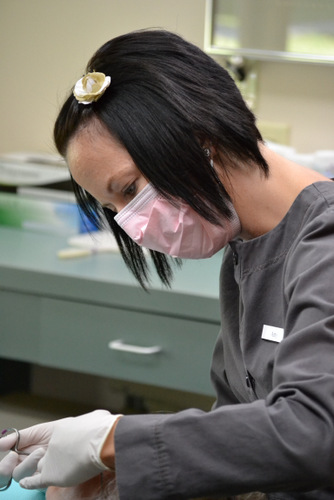 Most cavities can be filled with tooth colored composite resin.

Dental Fillings are also used when tooth structure is lost due to trauma or chipping.

In many cases, we can repair the tooth using composite resin which is a tooth-colored filling material. Multiple shades are available to allow for an exact color match of the filling to your tooth.


Amalgam Fillings
These are the fillings everyone is most familiar with, the big silver ones that stand out like a sore thumb. For many years, these were the very best option available for producing long lasting, strong, fillings. Amalgam fillings are still a decent option for some teeth but they have a few drawbacks.

The biggest issue amalgam fillings present is that they are tremendously unsightly and easy to spot. If you want your smile to be flawless, these aren't for you. The other big issue with these fillings is that they require a large amount of the tooth to be removed in order to be placed. This results in less of your healthy tooth being left after the filling is placed.


Inlays & Onlays
Inlays and onlays represent a fairly small portion of the tooth restorations that are done today. These are restorations that are custom made to sit in a missing section of your tooth and can be used to fix trauma related issues (like chips in your tooth) as well as filling large cavities. Inlays are typically smaller and fit within a single cusp of a tooth, whereas onlays are larger and can fill in between one and three cusps. While inlays and onlays are not technically considered fillings, they do represent a similar kind of tooth restoration option and can be made to match the exact aesthetic of your natural teeth.


Tooth Colored Fillings
Improve your smile with a filling that matches your teeth.

Tooth colored fillings offer you the ability to have a small to medium sized cavity filled with a resin that matches the color of your tooth exactly.

This resin is mixed in our office and made to match your teeth perfectly.



Once we have the composite resin mixed we can drill the tooth, removing only the decayed portion of the infection, and place the filling mixture inside. Because the mixture is the same consistency as clay we can mold it so that it matches the contours of your tooth. The final step is setting the composite in place permanently using a special UV light.



Composite filling material can also be used to fix and alter teeth that have been damage via chipping and cracking through a process called dental bonding. Dental bonding offers a comparable, quick, and cost effective alternative to cosmetic dental options like veneers.

We are so excited to see your smile when you walk into our office, call us anytime to schedule your no obligation consultation!

Schedule an Appointment