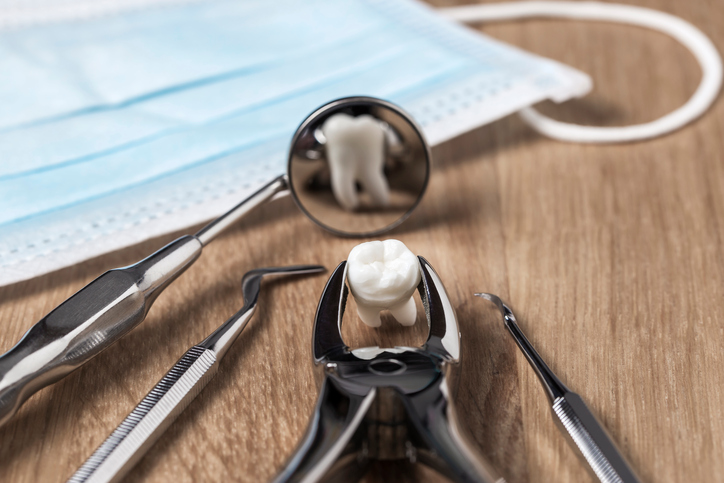 Your teeth are incredibly strong, and put up with a lot of use every single day. Taking care of your teeth is essential for keeping them in good working condition. However, accidents occur, and the teeth can be faced with damage. When teeth are damaged, the best possible outcome is to save them, whether with crowns, root canals, or another restorative treatment. However, when the damage is too severe, the teeth may be beyond repair. In cases where your teeth cannot be saved, Coulter Family Dentistry can perform a multiple tooth extraction, and discuss your options for replacement.


What Can Cause Severe Damage?
Severe damage that results in the need to have several teeth extracted can be caused by some different issues.


| | |
| --- | --- |
| • | Facial trauma. Whether a car accident or a fall in the home, facial trauma often results in damage to the teeth. Teeth may have cracks that run down the gum line, damage completely below the gums, or the teeth can split or shatter. Crowns cannot restore these teeth. |
| • | Severe tooth decay. When decay is severe, fillings only further compromise the teeth. At the same time, the teeth may not be strong enough to support crowns. |
| • | Gum disease. When gum disease advances beyond the initial stages, irritated, swollen gums pull away from the teeth and create pockets. Bacteria collect in these pockets and attack the periodontal ligaments and the jawbone. These structures become weak, and the teeth become loose. |
Extracting Multiple Teeth
Teeth are extracted in one of two ways. A simple extraction, which is done under a local anesthetic, involves moving the teeth back and forth in their sockets until the ligaments widen enough to lift the teeth out. A surgical extraction is used in more complex situations, such as when the teeth are broken. Done under a local anesthetic and sedation, incisions are made in the gums to expose the roots of the teeth as well as the bone surrounding them. The teeth are then removed, and the sites are cleaned. Finally, the gums are sutured closed.


Recovering from a Multiple Tooth Extraction
The length of time it takes to recover following a multiple tooth extraction varies from patient to patient and is dependent on many factors, including how many teeth have been removed. During this time, rest is essential. It is important that you avoid any strenuous activities, including heavy lifting, bending, and jogging. It is also important to stick to a diet of soft foods, avoiding anything hard, sticky or chewy. As you begin to feel better, you can slowly reincorporate your normal activities and your normal diet.


How are Teeth Replaced?
After your teeth have been extracted, they should be replaced as soon as possible. Replacing your teeth will restore the functions of the extracted teeth and the appearance of your smile. There are a few options available for multiple teeth replacement.


| | |
| --- | --- |
| • | Dental Bridge. A bridge can be used to replace up to three missing teeth. It consists of two crowns that surround your replacement teeth. The crowns anchor the bridge into place over the adjacent healthy teeth. |
| • | Dentures. Dentures are removable restorations that consist of your replacement teeth set into a colored gum base. The base is made to sit directly on your gums. Dentures can replace large sections of missing teeth or a full arch of missing teeth. |
| • | Dental implants. Implants are a modern alternative to bridges and dentures. Ceramic crowns are supported by small titanium posts. The posts are surgically implanted into the jawbone, and the bone fuses to them as you heal. This fusion is essential for the stability of the posts and your replacement teeth. |

While saving your teeth in the event of damage is always preferred, it is not always possible. In cases of severe tooth damage, a multiple tooth extraction, followed by tooth replacement, can give you the best results, helping to restore your oral health and your quality of life. For more information, and to schedule your consultation, call Coulter Family Dentistry today at 509-924-1314.