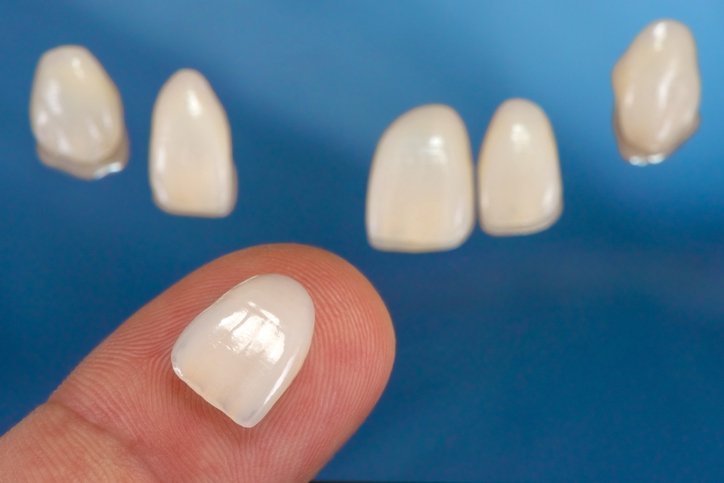 Dental veneers

are designed to cover imperfections in your front teeth, giving you a perfect look.

They are thin, customized shells of porcelain or resin that are colored to match your teeth.

Our patients at Coulter Family Dentistry, love how veneers are precisely designed to cover the front surfaces of their teeth, hiding imperfections or giving teeth a straighter appearance.

Using dental veneers, we can vastly improve the appearance of your teeth, altering the shape, color, size and or even the length. With veneers, you can achieve optimal esthetics and function through minimal tooth preparation, and significantly less time than other options including braces.

Our dentists, Dr. Elizabeth Coulter or Dr. Travis Coulter, can completely reshape the look of your teeth and smile with the placement of dental veneers. The process is fast, simple, and less cost effective than other alternatives including dental crowns or braces. We can give you the look of perfection, hiding a large variety of dental conditions.

Some of the most common reasons for dental veneers include:


| | |
| --- | --- |
| • | Giving a straighter appearance to teeth that are crooked. |
| • | Improving the look to teeth that are misshapen. |
| • | Repairing teeth that are chipped or fractured. |
| • | Hiding teeth that are severely stained. |
| • | Hiding teeth that are discolored from fluorosis. |
| • | Filling in gaps between front teeth without the need for braces. |
| • | To give teeth a more even appearance in length. |
| • | To reduce or enlarge teeth as needed to fit better with your appearance. |
What is the process to receive veneers?
The placement of your dental veneers will generally require two office visits. More visits may be necessary based on other restoration work that needs to occur.



Your first visit will consist in establishing the desired look you want, one of our two dentists will discuss with you, shape, color, size, and what it is you are seeking to accomplish. With this information noted, the dentist will then prepare the selected tooth, or multiple teeth, by reducing the original tooth structure to make room for the dental veneer. Part of this process will also involve roughening up the tooth surface to allow for a strong bond between your tooth and the veneer. This process will permanently alter the look and shape of your tooth. Next, one of our dentists will take an impression of your teeth, using a mold, that will then be sent to a dental lab for the fabrication of your veneer, along with instructions of your desired outcome. We will complete this first appointment with the application of a temporary veneer shell to wear until the permanent one is ready. This will be approximately two weeks.





At your second visit, we will remove the temporary veneer and prepare for the placement of your permanent veneer. We will cleanse the area, and then place a bonding agent between your tooth and veneer. Our dentist will make any necessary adjustments, ensuring the fit, bite, and look at to your liking. With everything precise, we will finish the process with a specialized light source that bonds the tooth and veneer together, giving it a strong bond.





As with most dental restorations, veneers may someday need replacement. This is not a permanent fix, however, veneers are very durable and should last you many years, if you properly care for them, taking care to not fracture them.

Veneers are designed to provide you a long-lasting, beautiful smile.

For more information on dental veneers, contact Dr. Travis Coulter at our Spokane Valley, WA 99206 office. Our front office staff is pleased to assist you. 509-209-8747